Posted on 07/23/2010 at 05:29:05 PM by Student Blogger
By:
Emily C.
By the time this post is published, I will have finished my dietetic internship or the 1200 hour practicum that is required to sit for the examination to become a registered dietitian. Since I have been fortunate to experience both the research and clinical sides of nutrition, I thought I'd share some of my reflections from the past 10 months.
Nutrition research should be fueled by passion for people.
It was really exciting to see nutrition research translated into clinical practice and a good reminder of why we research…not for accolades or recognition but to improve nutrition-based treatment and better the lives of others through our findings.
Working in a nutrition field requires constant learning.
Part of my internship included learning about sustainability and growing produce to support SLU's local-food focused cafe, Fresh Gatherings. I also taught nutrition education lessons to public school children in the St. Louis area, which always included a garden component. Let's just say I have a black thumb, and this was quite a challenge for me.
Nutrition is an art.
Sometimes we get caught up in subject number and statistical significance, but we must be able to take our research findings and translate them into an accessible form for the general public. We're constantly bombarded with mixed messages from the media, and it's our responsibility as dietitians and nutrition professionals to creatively promote and clarify evidence-based information.
It always helps to see things from someone else's perspective.
This photo was taken during geriatric day, where we each assumed a physical limitation characteristic of the elderly while eating lunch. Taking a different point of view increases understanding in both research and clinical practice. After you've eaten your entire lunch blindfolded, you start to understand why the elderly with vision problems are at nutritional risk.
Your colleagues are your allies.
The dietitian network is incredibly intertwined and close-knit. Collaboration with other nutrition professionals is invaluable; I cannot tell you how many times I worked with dietitians to collectively find an answer to a nutrition-related problem. In addition, I formed friendships with the 33 other dietetic interns who will soon become my colleagues in the nutrition field [yes, our shirts do say fiber, it moves us]!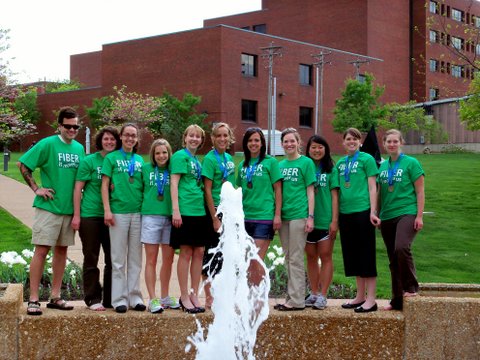 Throughout my time as a dietetic intern and experience in nutrition research, I have come to appreciate the "why" behind our current recommendations and become increasingly passionate about the "who" or the people in need of improvement in nutritional status. To me, nutrition research and application through clinical practice are of equal importance, and no matter what focus I choose when I graduate, I'm incredibly humbled and honored to have been a part of both.