Posted on 04/24/2010 at 06:18:33 PM by EB 2010 Blogger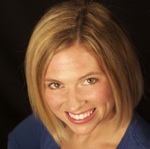 By: Rebecca Scritchfield, RD, ACSM Health Fitness Specialist
ASN Blogger at EB 2010
As food and nutrition experts, we know that research is essential in order to understand what kind of advice to give to help people live healthier lives. In addition, with research dollars ever dwindling, we also want to know where the "hot button" discoveries are so we can develop research studies to help grow the body of evidence. While we gather here to discuss emerging evidence on topics from the role of phytonutrients in metabolic syndrome to health benefits of whole grains, the chatter among the audience members could not help but gravitate toward the bigger picture. How does all this work really impact health?
One audience member asked about motivating behavior change in children. As a person dealing with chronic disease in his later years, he admitted that his food preferences and lack of exercise did not change over time. He cited a lack of exposure to information at a young age. Many people were moved by his comments and agreed that we need to reach our nation's children. One person suggested the use of video games while others mentioned the need to increase physical education in schools and the promise of Michelle Obama's
Let's Move
initiative.
A female audience member raised concerns about the amount of misinformation in the media and general distrust consumers have for nutrition research. She blamed the media's focus on "quick" advice and dieting tips. The discussion led to the disconnect between American's being drawn to supplements, magic bullets, and quick-fixes versus actually changing behaviors.
As a person who works with the media on a regular basis, I can add that it is up to us to be well-trained in how to work with the media and have messages that put news into perspective. Consumers will continue to get nutrition advice from the media so we need to make sure we are the expert they need to help them avoid the "magic bullet" mentality and make sure we aren't talking in "science speak". ASN is taking a leadership role with their
Spokesperson program
. ASN members are media trained and work with the Society to serve as authoritative nutrition experts for the public.
I look forward to continuing the dialogue with the speakers and audience members at EB 2010. Check out the ASN blog at
www.nutrition.org
for more content.
Rebecca Scritchfield is a Washington, D.C. based registered dietitian in private practice specializing in healthy weight management. She is a member of ASN and is covering several events at EB 2010 through social media.