Posted on 04/26/2010 at 01:34:09 AM by EB 2010 Blogger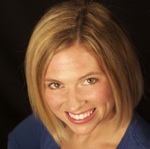 By: Rebecca Scritchfield, RD, ACSM Health Fitness Specialist
ASN Blogger at EB 2010
Watch
my latest video report
on the nutrition research at the ASN meeting.
Getting enough vitamin D is important for all stages of life. Vitamin D is involved of hundreds of reactions in the body. Not only is it essential for bone health, but it also plays a role in helping to prevent chronic diseases, manage blood sugar, and prevent fatigue.
A new 4-year study on nearly 3,000 seniors indicates that those with higher levels perform better on physical function tests like walking and getting in and out of chairs. That's good news for people who have enough vitamin D and maintain those levels later in life. But many people are vitamin D deficient and may not even know it. You need a lab test for a diagnosis.
The primary researcher, Dr. Denise Houston, would like to see clinical studies on whether or not higher amounts of vitamin D actually preserve muscle strength and physical function and what amounts would be needed to do so.
Chokeberries, a distant relative of the cherry, grow in the U.S. but they are inedible in raw form. They have a very high anthocyanin content (plant chemical that gives berries their color). Pre-diabetic rats were given an extract of chokeberries and they were able to manage their weight and reduce blood sugar levels. This early study shows promise because Chokeberries can be made into wine, syrups, jams, and used in supplements. For now, keep eating the edible berries with anthocyanins like cherries, cranberries, blueberries, purple grapes, and blackberries.
Rebecca Scritchfield is a Washington, D.C. based registered dietitian in private practice specializing in healthy weight management. She is a member of ASN and is covering several events at EB 2010 through social media.