Posted on 04/25/2010 at 11:46:15 PM by EB 2010 Blogger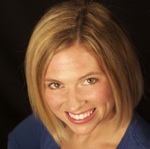 By: Rebecca Scritchfield, RD, ACSM Health Fitness Specialist
ASN Blogger at EB 2010
Hey there. I've got another
video report
from my experience at sessions so far at EB 2010. Here's the skinny on what I think is "hot" nutrition news.
It's looking like there's no stopping the health benefits of fresh, whole foods, especially fruits and vegetables. Their phytochemicals may help
prevent and reverse metabolic syndrome
. In one study whole food extracts are doing better than metformin at regulating blood sugar in diabetics. Let food be thy medicine!
There's also lots of
confusion on whole grains
. Consumers aren't getting enough and part of the problem may be that there are a lot of products that aren't 100% whole grain (they are made with refined grains too) but the marketing on the front could say "whole grain" or "multigrain". The downside of this is that they may not be getting the benefits of whole grains, such as adequate fiber, antioxidants, and vitamins and minerals.
Finally,
calorie restriction may not be worth your time
. Despite early evidence that rats live longer with a 30% calorie deficit. In humans, you'd need to restrict for seven years to add less than two and you have to put up with annoying side effects from excessive hunger, excessive cold, and drop in sex drive (no thank you!)
Rebecca Scritchfield is a Washington, D.C. based registered dietitian in private practice specializing in healthy weight management. She is a member of ASN and is covering several events at EB 2010 through social media.