Posted on 04/24/2010 at 03:59:18 PM by EB 2010 Blogger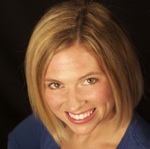 By: Rebecca Scritchfield, RD, ACSM HFS
ASN Blogger at EB 2010
68 million Americans have
metabolic syndrome
. That means their risk of developing chronic diseases, such as heart disease, diabetes, and hypertension is higher than other people in their demographic.
We know behaviors, such as smoking, eating and exercise habits, and ability to manage stress are major contributors to metabolic syndrome.
Researchers discussed their latest findings on how metabolic syndrome could be prevented or reversed at the cellular level.
One of the most exciting things I learned was that blueberry extract was more effective than metformin (the defacto diabetes drug) at lowering blood sugar levels -- at least that's what a 2009 study published in Phytochemicals said. (see Grace et. al, vol 16, pgs 410-415).
Also of interest to me was the emphasis of research on how the gut microbes (healthy bacteria) change based on the diet. Herbivores have different microbiota than omnivores and carnivores! In addition the gut bacteria can be playing a role in the development of metabolic syndrome. Some bacteria may help the body increase appetite, store fat, cause a low grade inflammation in gut, and activate immune cells in fat tissue.
Watch
my video
that summaries some of the research on metabolic syndrome.
Listen to
Dr. Deanna Menich of Metagenics
discuss metabolic syndrome and the research presented at the ASN Metabolic Syndrome Symposium.