Posted on 04/25/2010 at 06:48:48 PM by EB 2010 Blogger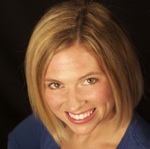 By: Rebecca Scritchfield, RD, ACSM Health Fitness Specialist
ASN Blogger at EB 2010
For years, researchers have been interested in the possibility that very low calorie diets could increase life expectancy in humans. This hypothesis came after some promising research studies on rats.
But recent research data show that it depends on how early in life you start restricting calories and the rewards of restriction may no be worth the cost. For example, a 30% calorie restriction for 7 years may only add a year or two of life and the limited evidence on humans indicate side effects of feeling cold all the time, excessive hunger, and loss of libido. As a dietitian who counsels clients on healthy weight management, I have seen anecdotally many other negatives of restriction. They lead to frequent thoughts of food, binge eating, and not to mention psychological problems.
Listen to Dr. Mary Ann Johnson summarize the calorie restriction session presented at the 2010 Aging Symposium for ASN.

Rebecca Scritchfield is a Washington, D.C. based registered dietitian in private practice specializing in healthy weight management. She is a member of ASN and is covering several events at EB 2010 through social media.