Posted on 04/24/2010 at 06:49:05 PM by Paula Eichenbrenner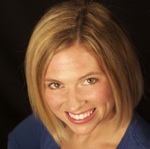 By: Rebecca Scritchfield, RD, ACSM Health Fitness Specialist
ASN Blogger at EB 2010
Yesterday, the American Society for Nutrition announced a new online publication that will help researchers stay on top of the fast-paced nutrition science field. Advances in Nutrition: an International Reviews Journal will launch in November 2010 and will continue on a bi-monthly cycle after the launch.
I sat down with Dr. Suttie, Editor-in-Chief of the new review journal, and Professor Emeritus at the University of Wisconsin-Madison to learn more about about this exciting news.
Why Does ASN Need a New Publication?
Dr. Suttie explained that nutrition is a diverse field and scientists are working on very narrow topics. Researchers don't have the time to read in-depth studies in areas outside of their expertise. Reviews are very helpful to fill in this gap. People can have an idea about what is going on outside of their scope to stay current on important nutrition topics.
A Compliment to ASN's Award-Winning Journals
Dr. Suttie explained that since
The American Journal of Clinical Nutrition
and
The Journal of Nutrition
are doing so well, there is high demand for space to publish research studies and the reviews seem to get squeezed out.
Unfortunately, there is not enough room in AJCN or JN to publish the amount of quality reviews that keep coming in (a good problem to have in my opinion). This new publication will be able to house reviews as well as news important to ASN members, such as policy initiatives that affect ASN members and an updated database of 1-2 page briefs of data for all the essential nutrients.
How Members Can Get Involved
All members will be informed on how to submit reviews in the first issue. There will be an international editorial board that will review submissions and make decisions on which reviews to publish. Be sure to check out the inaugural issue in November 2010 for instructions on how you can submit a review or make a request for a review.
ASN Continues to Deliver Member Value
This will be a new member benefit for all ASN members. For the first year only, everyone who has internet access can access the new journal. If you are not yet an ASN member, you can
learn how to join online
.
Rebecca Scritchfield is a Washington, D.C. based registered dietitian in private practice specializing in healthy weight management. She is a member of ASN and is covering several events at EB 2010 through social media.