The
preview
issue of
Nutrition Notes Daily
provides important news and feature articles leading up to ASN's Scientific Sessions & Annual Meeting in San Diego, CA. This issue features a preview of the session on energy drinks, highlights from the Diet and Non-Communicable Diseases track, an interview with Sustaining Partner Roundtable Chair Dr. Greg Miller, policy-related events, award lecturers, and tools for meeting attendees.
Nutrition Notes Daily
is an easy way to stay up-to-date on ASN news during EB 2014; the newspaper will be published three times (Sunday, Monday and Tuesday). Print copies will be distributed FREE to all meeting attendees, while digital issues will be posted to the ASN blog and emailed to attendees. A wrap-up digital-only issue will be released following EB 2014.
Click here to read the preview issue now
!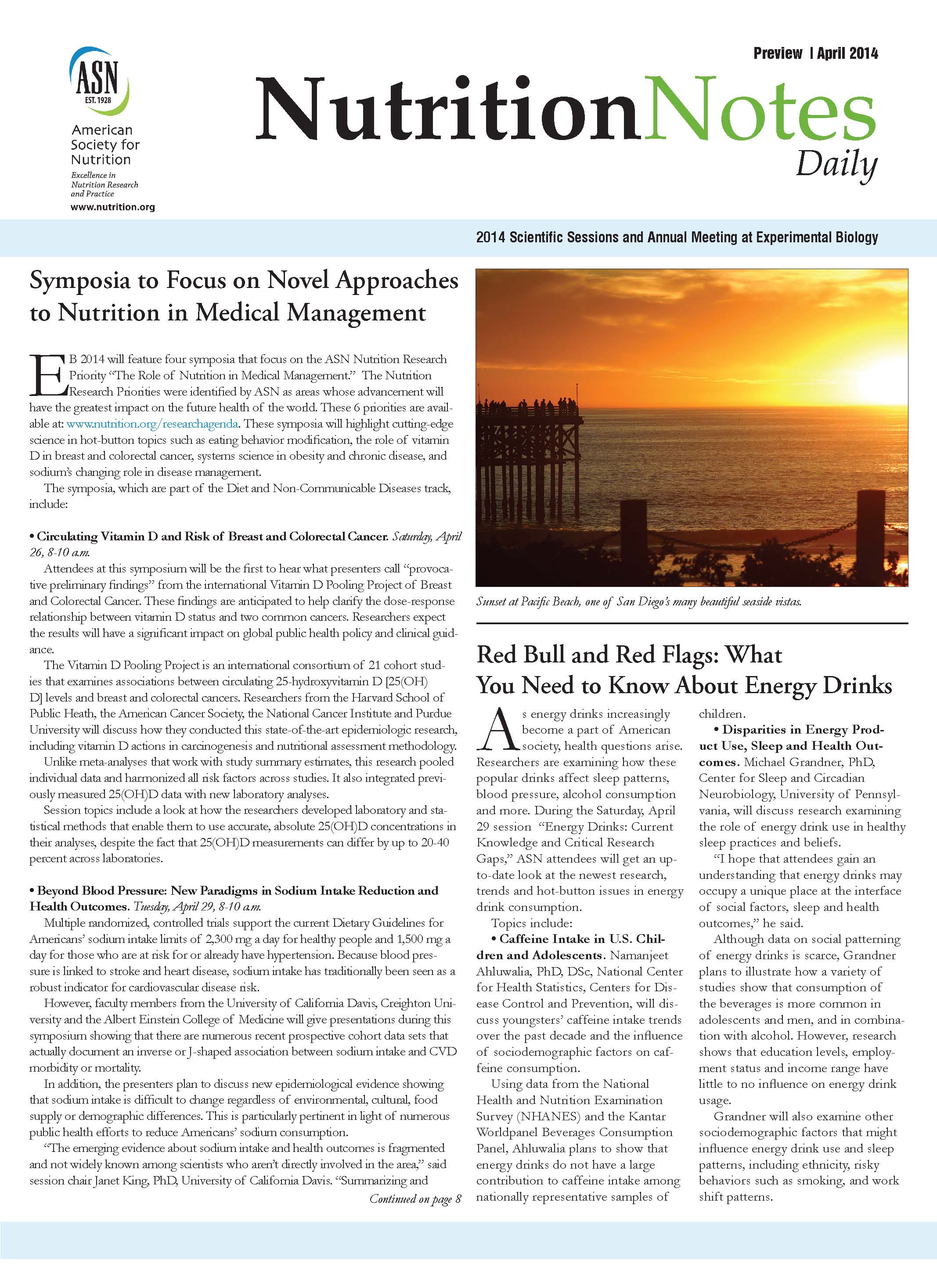 By Colby Vorland
A
new paper published this week
in
Nature Genetics
adds to a complex and exciting scientific story about the gene(s) AMY1, which codes for salivary (alpha-)amylase, the first step in starch digestion in the mouth. The number of copies of AMY1 has been shown previously to correlate with how long populations have been exposed to dietary starch, suggesting an interesting example of selective pressure by the diet in a relatively short time frame (Perry et al., 2007). It would make sense that more AMY1 would therefore help to breakdown starch faster and increase blood glucose more than having fewer copies, to provide more energy to cultures surrounded by starch.
Alas, if only science were that easy. Mandel and Breslin published data in 2012 that showed just the opposite - more AMY1 and salivary amylase results in lower glucose concentrations after ingesting a starch solution compared to the low group. The greatest difference between the groups was about 40 mg/dL - a clinically relevant result. Even more interestingly, insulin overall was not different between the fewer and higher AMY1 groups. The authors hypothesize that insulin response in the first 15 minutes after a meal (cephalic phase) may increase more in the more AMY1 group and improve glucose control, yet not affect long-term insulin response, but this needs to be rigorously tested in future research. It is also interesting that the same lab found that salivary amylase amount and activity seems to influence textural perception of starch (viscosity), although AMY1 was not directly related (Mandel et al., 2010). Viscosity impacts food preference, adding another plot twist in this story that has yet to be fully told.
But back to the new entry in this page-turner. This time, Falchi and colleagues (2014) showed that AMY1 is related to obesity. In a Swedish population, they found that AMY1 copy number was associated with BMI and fat mass. In a meta-analysis of UK and French cohorts, reduced AMY1 copies were associated with increased BMI and obesity, and in a group of participants of Singaporean Chinese background, lower AMY1 was also associated with elevated obesity. Similarly in a separate French study, AMY1 copy number was associated with serum (total) amylase level and inversely to BMI, and AMY1 and AMY2 number correlated with salivary and pancreatic amylase level, which were inversely associated with BMI. In summary: fewer AMY1 copies, increased obesity risk.
AMY1 copy number had a stronger association with BMI than polymorphisms in FTO, which is the most replicated "obesity gene" to date. The authors estimated that AMY1 number explains between 1.73 and 7.94% of obesity, and 0.66 to 4.40% of BMI. Further, they estimated that this is 2.47 to 19.86% of obesity's estimated heritability of 40 to 70%. This is quite impressive for one gene. Interestingly, AMY1 is highly expressed in the adipose tissue, so future research will need to explore its role there.
The majority of the chapters of the AMY1 book remain to be written, but it seems to be one of the more interesting genetic interactions with diet. Though we can only speculate at this point, it is possible that starch recommendations could be personalized by copy number of AMY1 in the future, given that a low count seems to result in worsened glucose control and increased obesity risk should starch be mediating the latter. And of course, it gives us a little more insight into our considerable capacity for long-term adaptation to changing food environments.

References
Falchi, M, Moustafa, J, Takousis, P, Pesce, F, Bonnefond, A, Andersson-assarsson, J. C.Hammond, C. J. (2014). Low copy number of the salivary amylase gene predisposes to obesity.
Nature Genetics
. doi:10.1038/ng.2939
Mandel, A. L., des Gachons, C. P., Plank, K. L., Alarcon, S., & Breslin, P. A. (2010). Individual differences in AMY1 gene copy number, salivary α-amylase levels, and the perception of oral starch.
PLoS ONE
. 5(10), e13352.
Mandel, A. L., & Breslin, P. A. (2012).
High endogenous salivary amylase activity is associated with improved glycemic homeostasis following starch ingestion in adults
.
The Journal of Nutrition.
142(5), 853-858.
Perry, G. H., Dominy, N. J., Claw, K. G., et al (2007). Diet and the evolution of human amylase gene copy number variation.
Nature Genetics
, 39(10), 1256-1260.
By Corrie Whisner, PhD
I recently ran across an interesting article in the PLOS ONE journal entitled, "
Holsteins Favor Heifers, Not Bulls: Biased Milk Production Programmed during Pregnancy as a Function of Fetal Sex
" by Katie Hinde and colleagues at Harvard and Kansas State Universities. After the passing of International Women's Day on March 8 and recently finishing the book
Lean In
by Sheryl Sandberg, I felt inspired to share Hinde's findings and highlight the scientific side of "girl power!"
In this large retrospective analysis of dairy cow lactation records, researchers found that Holsteins produced 1.6% more milk for female versus male offspring. More interesting, is the finding that fetal sex of first-time mothers influenced milk production in subsequent pregnancies. The advantage of having a female fetus during the first pregnancy carried over to the second pregnancy, resulting in greater milk production across both lactations regardless of whether the second fetus was male or female. The benefit of having a heifer during the first pregnancy was further documented when cows giving birth to a male in their first pregnancy showed significant increases in milk production if their second pregnancy was a female. This increase was evident when comparing data to milk production in dairy cows that gave birth to two consecutive male offspring; however, the milk production of male-female sequence mothers, did not increase to the level of female-first mothers.
According to Hinde, biologists have been interested in studying how mothers differentially allocate resources to male versus female fetuses during pregnancy. To date, little work has been done to investigate sex-biases in milk production which make this article very exciting! Reading this article definitely reminded me of the
Barker Hypothesis
and the earlier publication
Boys Live Dangerously in the Womb
, which both provide evidence for fetal programming in humans and suggest that male and female fetuses respond differently in utero to maternal cues.
Maternal milk is an ever-evolving elixir which fuels important changes throughout early development, so it isn't hard to believe that milk production might differ between species. After reading this article I amazed to learn that mothers may allocate resources, such as milk, to the offspring sex that will receive maximal benefit. A current belief is that males from species with male-male competitive mating rituals will receive a greater investment across gestation and lactation from their mothers. Additionally, Rhesus monkeys have been found to produce energetically-dense milk, higher in fat, for their male offspring; however, female offspring received a greater milk volume which made up for the lack in energetic-density.
As research continues in this area, I wonder if we will start seeing different types of baby formula for boys and girls. Only time will tell…and to that, I say, "Let's get MOO-ving, so we have more to talk about soon!"
References
1. Katie Hinde, Abigail J. Carpenter, John S. Clay, Barry J. Bradford. Holsteins Favor Heifers, Not Bulls: Biased Milk Production Programmed during Pregnancy as a Function of Fetal Sex. PLoS ONE, 2014; 9 (2): e86169 DOI:10.1371/journal.pone.0086169
2. Trivers RL, Willard DE (1973) Natural selection of parental ability to vary the sex ratio of offspring. Science 179(4068): 90–92. doi: 10.1126/science.179.4068.90
3. Hinde K (2007) First-time macaque mothers bias milk composition in favor of sons. Curr Biol 17(22): R958–R959. doi: 10.1016/j.cub.2007.09.029
4. Hinde K (2009) Richer milk for sons but more milk for daughters: Sex-biased investment during lactation varies with maternal life history in rhesus macaques. Am J Hum Biol 21(4): 512–519. doi: 10.1002/ajhb.20917
ASN's Scientific Sessions & Annual Meeting at Experimental Biology 2014 feature in-demand scientific speakers. ASN recently spoke with one of the many exciting presenters from this year's meeting, Dr. Joanne Foody, director of the Cardiovascular Wellness Program at Brigham and Women's Hospital in Boston. Dr. Foody, who also serves as an Associate Professor at Harvard Medical School, will be presenting as part of the sponsored satellite program, "
Deciphering the Evidence Behind Whole Food Nutrition and Disease Risk Reduction
" on Friday, April 25, 8:30 am-12:30 pm, sponsored and organized by California Walnut Commission. Organized and sponsored by external groups, these
live and in-person events
offer free continuing education credits for Registered Dietitians. In an interview, Dr. Foody discusses her presentation, "Translation and Utilization of Science-Based Evidence by Health Professionals: Bring the Science to the Dinner Table," as well as her thoughts on the state of nutrition research and practice.
Read the full interview
.
During ASN's
Scientific Sessions & Annual Meeting
at EB, the Society's blog and social media outlets are very active with live updates on symposia, awards, and networking events. To complement the efforts of Society staff, we are seeking official meeting bloggers to report on the science and the events. Bloggers are required to submit at least one blog per day, minimum of 4, and to send his/her posts to ASN staff for review.
ASN is seeking official meeting videographers as well, who will conduct short (1-4 minute) on-camera interviews with conference speakers, ASN leaders, and others attending the meeting. The video blogger will be provided with a flip-cam and the ability to upload to the ASN YouTube channel. The requirement is 2 videos per day, with a minimum of 6.
Both blogger(s) and videographer(s) will have access to the EB press room, which will be open Saturday, April 26, through Wednesday, April 30. A press kit with highlights of scientific research will be available on an embargoed basis prior to the meeting.
Applications for both positions are due on
Wed., March 12 at 11:59 PM EST.
Applicants will be notified by March 21 regarding their application status. Visit the ASN
blog
to read recent entries and the
ASN YouTube Channel
to watch past EB videos. Please send completed applications to
info@nutrition.org
.
The excitement is building as ASN's Scientific Sessions & Annual Meeting at EB, April 26-30, is approaching. We spoke with a moderator of one of the sessions, Dr. Michael Kelley, Senior Principal Scientist for the Wm. Wrigley Jr. Company. Dr. Kelley will be co-chairing the session, "
Neurocognition: The Food-Brain Connection
," along with Dr. Naiman A. Khan of the University of Illinois at Urbana-Champaign. Other presenters at the session, to be held on April 28 from 8:00 am to 12:30 pm, include Dr. James Hill of the University of Colorado's Anschutz Medical Campus, Dr. Kent Berridge, University of Michigan, Dr. Nicole Avena of Columbia University's New York Obesity Research Center, Dr. Hisham Ziauddeen of the University of Cambridge, Dr. Miguel Alonso-Alonso of Harvard University, and the University of Alabama's Dr. David Allison. The symposium is organized by the Nutrition Translation RIS in collaboration with ILSI NA. Find out why this is a must attend session in Dr. Kelley's
interview
!
By Sabrina Sales Martinez, MS, RDN
In a blog article I wrote for ASN last year titled "
AMA Declares Obesity a Disease. Should we LIKE this decision
?" I discussed the announcement by the American Medical Association (AMA) on classifying obesity as a "disease."[1] In the body of that blog, I discussed some potential pros and cons of this decision. The potential beneficial effects may include greater treatment, research and prevention endeavors. There were concerns, however, about using BMI to diagnose obesity, believing that obesity needed to be treated only with medication or surgery, and creating deterministic attitudes by which the obese person, believing that he or she is ill, feels without control over the disease.
The effect of this policy on the epidemic of obesity and on its prevention and treatment are yet to be known. Researchers at the University of Richmond and University of Minnesota, however, have found some interesting results on the psychological aspects of the AMA's declaration.[2]
Hoyt et al
.[2] studied whether the AMA's message affected concerns about weight and body image and motivation to participate in healthy behaviors. Experimental studies were conducted using 727 participants from Amazon's Mechanical Turk, a crowdsourcing internet marketplace, in which individuals can perform tasks for a modest payment.[3] Participants were asked to read either an article on the AMA's decision to classify obesity as a disease, a standard public health article on weight, or an article on why obesity is not a disease. After reading the assigned article, the participants responded to questions on self-regulatory processes, body dissatisfaction, food choices, demographics, and height and weight. The outcomes showed that those who were obese and read the article on obesity as a disease had less concern about their weight and body dissatisfaction than those who read the public health article or the article that maintained that obesity is not a disease. Additionally, those who were obese and read the obesity is a disease article chose the higher calorie food options.
These investigators state that their research demonstrates the benefits and hidden consequences that come from the message that "obesity is a disease" and this message may increase satisfaction with body image but may interfere with self-regulatory processes in those who are obese. Higher body satisfaction in the obese participants predicted higher calorie food choices. The authors also discussed that even moderate weight loss in obese individuals may have positive health implications and that this may not occur if the obese person harbors less concern about weight. The conclusions of this research opened the door for a discussion on the AMA's decision.
The authors of the above mentioned article attempted to stimulate new research questions about future public health related obesity messages using scientifically based evidence. This study did have limitations, which included the calculation of BMI using self-reported height and weight, which may not be accurate. In addition, socio-demographics and levels of education were not included or discussed and the study mainly focused on weight and not on other aspects of health such as exercise.
In summary, the public health message that identifies obesity as a disease may have effects on self-regulatory mental and physical processes that may affect weight. This same message also appeared to have palliative effects on alleviating stigma for those who were obese. Certainly this study is creating a discussion, and raising doubts, on whether labeling obesity as a disease would be an important or a counter-productive tactic on combating obesity. As mentioned in my previous blog article, as an optimist, I am confident that the attention brought by the AMA's decision has a beneficial impact on prevention and treatment efforts for obesity, and that it will make treatment of obesity an essential component in an individual's healthcare. However, we cannot ignore that there are hidden, maybe unintended, consequences from this message.  
References
1. American Medical Association (AMA). AMA Adopts New Policies on Second Day of Voting at Annual Meeting. Available at:
http://www.ama-assn.org/ama/pub/news/news/2013/2013-06-18-new-ama-policies-annual-meeting.page.
2. Hoyt CL, Burnette JL, Auster-Gussman L. "Obesity Is a Disease": Examining the Self-Regulatory Impact of This Public-Health Message. Psychol Sci. 2014 Jan 24. doi:10.1177/0956797613516981
3. Buhrmester M, Kwang T, Gosling SD. Amazon's Mechanical Turk: A new source of inexpensive, yet high quality, data? Pers Psychol Sci. 2011. 6, 3–5.
doi:10.1177/1745691610393980.
By Meghan Johnson, MPH
It is no secret that the United States has been fighting an uphill battle against weight gain, often caused by excess food consumption and sedentary lifestyles. But we have made significant efforts to reverse obesity trends in recent years and as a result,
The National Center for Health Statistics
(1) reported that there was no change in the prevalence of obesity among adults between 2009–2010 and 2011–2012 after decades of steady growth.
Most experts agree that there is still much work to be done—more than one-third (34.9%) of adults were obese in 2011–2012, having a Body Mass Index greater than 30 (1). However, the knowledge gained from the myriad strategies applied over the last several decades may soon be needed to address rising trends in global obesity according to January's report from the Overseas Development Institute,
Future Diets
(2).
Historically, nutritional challenges of countries like Egypt and Mexico primarily related to undernutrition. But as household incomes rise, families replace cereals with animal products, sugar, and fat, which can quickly lead to expanding waistlines like those we are familiar with here in the United States. The Overseas Development Institute (2) reports, "Between 1980 and 2008, the number of people affected [by overweight and obesity] in the developing world more than tripled, from 250 million to 904 million."
The inspiration for this post arose from another of the report's conclusions. It states, "There seems to be little will among public and leaders to take the determined action that is needed to influence future diets, but that may change in the face of the serious health implications."
Let this statement serve as a call to action for those experienced in combating obesity here in America. Combined educational efforts, policy changes, and product reformulations (among other contributors) have successfully stabilized the obesity rate in the United States. Now, the challenge is to apply what we have learned from these strategies that might translate to emerging middle-income countries.
Undoubtedly cultural, financial, and political considerations make implementation unique in every setting. But we must ask ourselves, are there examples of public policies or scalable strategies that have had a measurable impact on diet? (For example, providing recipes or cooking skills training to encourage families to prepare meals at home rather than eating at restaurants or fast food chains.) If so, how we can translate those results to prevent middle-income countries from reaching the tipping point?
1. Ogden, C.L., Carroll, M.D., Kit, B.K., Flegal, K.M. Prevalence of obesity among adults: United States, 2011–2012. NCHS data brief, No. 131. Hyattsville, MD: National Center for Health Statistics. 2013.
2. Keats, S. and Wiggins, S. (2014) Future diets: Implications for agriculture and food prices. ODI Report. London: Overseas Development Institute.
By John Courtney, PhD, ASN Executive Officer
The recent passage of the Agricultural Act of 2014 (also known as the Farm Bill) provides a new opportunity to examine the intrinsic relationship between agriculture and nutrition. Increased agricultural productivity and maintaining good nutrition are acutely interrelated when it comes to addressing health issues in America. Although individual food choices can be influenced by a number of different drivers, agricultural policy is certainly one of those drivers.
It has been posited that current agricultural policies contribute to increased consumption of less healthy foods and increased rates of obesity by making certain commodities more abundant and therefore cheaper. Many agricultural policies and programs were developed when prices for crops and livestock were fragile and could bottom out, leaving farmers desperate for income to support their families. Subsidies were created as a means of supporting farmers and the crops that they produce and as a way to provide a reliable and secure food source for Americans. Government funds are provided to farmers to supplement their income and influence the cost and supply of commodities. Subsidies have tended to promote overproduction, leaving excess commodities available for both human and animal consumption, often at a lower cost. Traditional subsidy programs primarily support production of eight major commodity crops, many falling into the grain category: barley, corn, cotton, oats, rice, sorghum, soybeans, and wheat.
Read the full post here.
By Lindsey Smith, MPH
Imagine you're browsing your morning edition of NPR, maybe checking out some of the hilarious and
alarming
stories circulating about the Sochi Olympics, when a
flashy headline
catches your eye. "Cash or Credit: How Kids Pay for School Lunch Matters for Health."
Oh really? You might think. How does that work, exactly?
Upon finding the
original study
, published in the journal
Obesity
in 2013, you discover that the study was
not
a randomized-controlled trial (RCT) testing whether using cash or credit is associated with some health outcome (obesity, perhaps, or maybe insulin resistance). Rather, it is a cross-sectional study examining whether attendance at a school with different methods of payment for school lunches is associated with certain diet behaviors, like eating higher total energy or purchasing fresh fruit or dessert. The NPR article tells you that students at schools with debit-only systems have increased total energy intake and lower nutritional quality compared to schools with debit-or-cash systems, suggesting that purchasing lunch with a debit card somehow causes students to make less healthy choices.
A closer look reveals a more complex picture. As it turns out, the study itself did not examine which method the students themselves used, only what type of school they attended. Could it be that the observed differences between payment systems were actually due to some other characteristics of the school that are associated with eating more healthfully? As it turns out, Whites were more likely to attend debit-only schools compared to Blacks, while low-income kids were more likely to attend cash-or-credit schools than higher income kids. Unfortunately, the authors did not control for these differences in their analyses, making it even more difficult to draw conclusions from this research. In short, this study demonstrates school-level associations between school lunch payment systems and dietary intake, with no evidence to suggest causation at the individual level. So what's with the splashy headline, then?
Selvaraj et al. set out to answer this question in a
recent study published in PLOSOne
, entitled "Media Coverage of Medical Journals" Do the Best Articles Make the News?" The authors argue that poor health care journalism is the result of not only the quality of the coverage, but the type of studies covered. Moreover, when media outlets choose to cover studies of poorer quality, they forego coverage of rigorously conducted studies, which could have important implications for public health. To investigate whether the lay media systematically cover studies of weaker design, the authors compared study characteristics of 75 clinically-oriented studies that received coverage by top newspapers against 75 studies published in the top five medical journals over a similar time range.
The authors found that studies covered by newspapers were significantly less likely to be RCTs, but more likely to be observational studies. Looking more closely at the study designs, they found that observational studies covered by newspapers were more likely to have smaller sample sizes and be cross-sectional, but there were no differences between newspapers and medical journals regarding RCTs. So yes, it turns out that, according to this study, lay media selectively reports observational studies, which cannot determine causality, but often assign them this causal role, ascribing them with an importance and potentially a larger health impact than the study design warrants.
Of course, any study design has limitations and nuances that complicate interpretation, but lay audiences cannot be expected to understand all of these caveats, especially not while casually perusing the news. As a result of such selective reporting and headline inflation, the general populace may make decisions about nutrition and health that are not supported by the science.
However, the responsibility for communicating the correct research findings does not lay entirely with the journalist. To improve the likelihood and quality of lay publication, Selvaraj et al suggests that scientists hold more and better press conferences. More research is also needed to understand why some studies are promoted via press release while others languish, and how to incorporate expert consultation to help identify which studies are worthy of coverage.
In the meantime: read with caution.
References
Just DR, Wansink B. School Lunch Debit Card Payment Systems are Associated with Lower Nutrition and Higher Calories. Obesity 2014;22:24-26.
Selvaraj S, Borkar DS, Prasad V. Media Coverage of Medical Journals: Do the Best Articles Make the News? PLOS One 2014.